Fine ginned cotton in standard bales received from Nida Textile Mills (Ginnery) in Kahama, is processed for further production of grey fabric.

The mill has a collection of 30,000 spindles, 800 rotors, 212 weaving units and operates machineries imported from Germany, Japan and China. Due to continual demand, it primarily supplies the grey fabric to Nida Textile Mills for production of made-ups.

There is an ongoing expansion in terms of machinery addition and up-gradation which will enable the company to service third-party demands for yarn and grey fabric.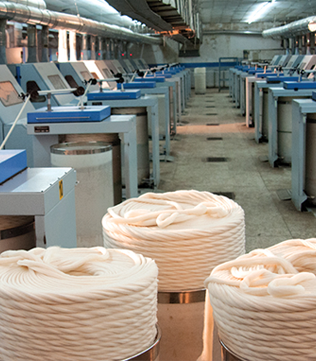 Spinning is the core activity through which textile production starts. Yarn is formed by twisting together the drawn out strands of fibres. Our factory has over 30,000 spindles and 800 rotors imported from Italy, Japan and China.

These units are capable of producing carded and slub yarns with a capacity of 300 tons per month of average yarn count in 100% cotton or P.C mix. The latest machinery is utilized in the blow room lines and auto cone machines to eliminate any possibility of contamination.